Volakas is a dolomite Greek marble origin, with white background and light or thick grey, purple, pink or even brown veins. The exploitation of its quarries, in Macedonia Prefecture, has been started a few decades ago and gradually it became a worldwide popular decorative Greek stone. Suppliers, manufacturers and quarriers have given several names to "White of Volakas" which is the original name and derives from the homonymous village where the quarry locations are. These names are usually based on its various types per color selection and on other characteristics of the stone.
Grades of "White of Volakas"
Marble and more naming information
Other geographic based names of this fine white stone are given under the extensive surrounding quarry areas, such as Drama White marble or Dramas White, as mines & the village itself are within the municipality of Drama. Also, as mines are within the more extensive area that Macedonia Prefecture covers, it is known as Macedonian White stone or Macedonia White.
Stone known names are also based on the background color (Volakas White, Volakas Brown, Volakas Dark Pink) or veining resemblances to natural features, such as Volakas Venato or Streaked or Dendritis (the veins – lines are similar to tree branches), Volakas Spider (the veins – lines are similar to a spider's net), Volakas Flower (thicker veins or patches that look like flowers), Volakas Cloudy (thicker veins or patches – spots that look like clouds), Galaxy White (because due to the combination of the color with the patches – spots, the stone looks like a galaxy).
As most of the Greek marble, com. names are according to the dolomite stone grades or quality. BUT, stone selection is not based on official standards one can make reference to, as there are no "official" stone grades. So, marble grades may be determined upon different selection criteria and have different names accordingly, from one manufacturer to another. Selection usually starts from the highest quality to the lowest, which is usually, from milky background to the less white: Volakas White Extra, Volakas white, Volakas Classic or Classico, Volakas Flower, Volakas Commercial.
Mineral composition is another naming basis: Blanco Dolomite, Dolomita Blanco, Volakas Blanco Dolomita, Volakas Dolomit, Greek Dolostone. Also, resemblance to another famous marble has led to more names of the stone: Volakas Arabesco and Volakas Ajax White.
Stone Volakas, White Mineral Composition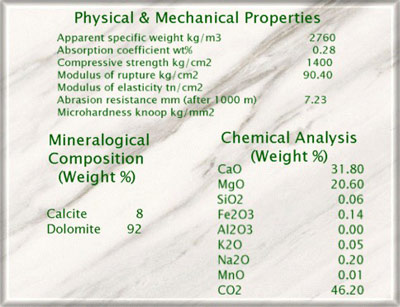 Stone colour sometimes is described in the various local languages of the international wholesalers, distributors, manufacturers or suppliers: Blanco Dolomita, The Knight Is White Stone, Volakas Branco or Bianco, Blanc Ajax, Blanc Volax, Klassik Weiss Volaka, Dolomita Blanco, Marmoles Blanco Ajax, Olympus Weiss, Olympos Weiss, Volacas Weiss, Volax Bianco, Olympic.
Common marbel misspellings or slight alterations due to the international exports of Volakas white marble: Volaka White, marbel Volokas, Volacas, Volaca, Volaks, Olympus, Olympos White, Olimpos. Besides, the stone can also be faulty referred as Volakas granite or granit or limestone or even travertine.
The exploitation of the Greek marble quarries started on sixth century B.C. and Greeks were among the first that noticed the beauty and uses of marble; Greece, inevitably, early became a top marble supplier. No wonder, the English term marble and more other terms (such as mármore, mármol, mramor, marmor, marbre, мрамор, marmo, marmer, marmori, mermer, marmur, marmura, marmure, márvány, marbel etc.) in other languages that are being used to define this natural stone, are all deriving from the ancient greek word (gr) μάρμαρο –ν, singular: μάρμαρο –ν, MAPMAPO-N (marmaro –n) and plural: μάρμαρα, MAPMAPA (marmara) from the verb μαρμαίρω (marmairo) which means "to shine" ("shining" stone).